Scallop, Starship, Patisson or Pattypan Squash With Garden Herbs
awalde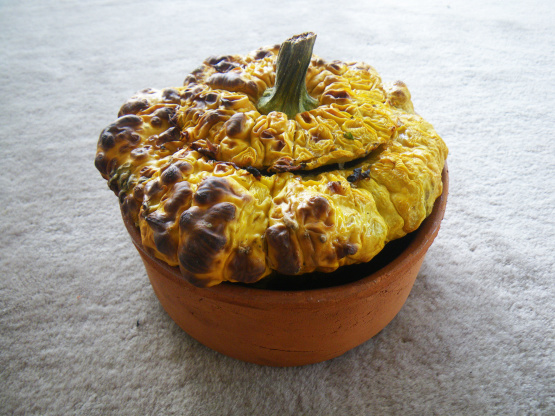 Eat with your eyes! With some fresh bread it makes a light, tasty and complete meal.
2

squash

3

tablespoons olive oil

2

onions, chopped

2

garlic cloves, chopped

1

leek, sliced

500

g minced beef

100

ml dry white wine

1

cup mixed garden herbs, chopped (time, rosemary, marjoram, parsley, basil, mint, savory,... )

1

teaspoon salt
1⁄2 teaspoon pepper
1⁄4 teaspoon nutmeg, ground

1

egg
Open the squashes with a knife discard the seeds and take out some pulp without damaging the fruit.
Heat the oil and sauté the onions and the garlic until golden.
Add the leek until tender.
Add the meet until slightly roasted.
Put the pulp of the squash into the mixture and add the wine.
Simmer for 5 minutes and add all the herbs, the spices and the salt.
Take from the heat away and let cool down a little bit.
Add the egg and mix well.
Fill the squashes and cook for another30-40 minutes at the temperature of 200°C (heat and timing are basing it on convection oven).