sharoany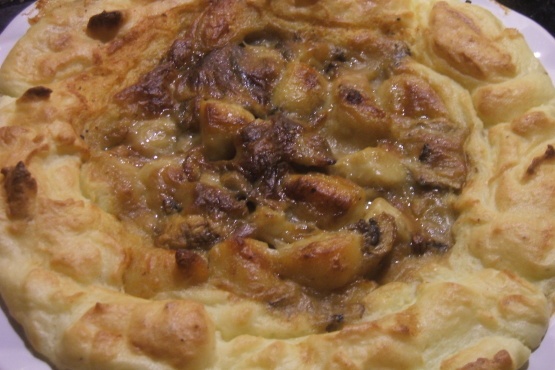 This recipe was demonstrated by a fellow classmate at an evening course on fish cookery that I took over 30 years ago. It sounded odd - who puts cheddar cheese with scallops!? but tasted delicious. Only use instant potatoes if you can get high quality ones that don't have artificial ingredients or flavors. This make a nice main course served with a salad though would be great served in smaller individual portions as an appetizer. If you make this with bay scallops you may want to reduce the cooking time so you don't end up with rubbery scallops. I like to use a medium sized scallops, if using large ones you may want to cut them in half. Please note that you need to reserve some of the cooking liquid when draining the scallops. Cooking time does not include preparing mashed potatoes.

I liked the flavor of this dish, but did not think it looked very attractive plated. I would make this in individual casserole dishes of some type - I think that would look much nicer. I used dry vermouth and a some broth instead of all wine, and felt the vermouth worked very well. A pinch of thyme worked well with the other ingredients. Instead of cheddar, I used goats-milk gouda which was very nice with the rest.
Pre heat over to 375 degrees, grease or spray a 9" pie plate.
Mix together mashed potatoes 2 Tbl butter and the egg, spoon mix around the edges of your pie plate - use all the potatoes.
In a sauce pan, bring wine to a boil, reduce to a simmer add scallops and mushrooms cook for 8-10 minutes. Drain, reserving 1 cup of the liquid, set aside.
In pan melt butter, then add flour and salt making a roux, cook for a few minutes while stirring, then slowly whisk in the reserved cooking liquid, cook till smooth and slightly thickened. Remove from heat and stir in cheese, mushrooms and scallops.
Pour scallop mixture into the center of the potatoes and bake for 8 minutes.
Note.
The original recipe called for canned mushrooms which I never use now. If you do use them, do not cook them in the initial step with the scallops, just add them with the cheese. To cook them slightly before the short baking time poach them with the scallops, though you could also lightly saute them while making the roux.