Prep 8 hrs 15 mins
Cook 0 mins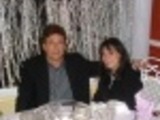 An excellent first course for your Mexican-themed dinner or party. Just make sure you are using the freshest scallops you can get, since you will be essentially eating raw fish. From Good Food Magazine May 1988.
Directions
Combine all ingredients in 8-inch square baking dish.
Cover with plastic wrap and refrigerate at least 8 hours.
Just before serving, remove zest and transfer to serving dish.
Serve chilled.
Most Helpful
Great ceviche recipe! I couldn't find fresh bay scallops, so I went with the sea scallops insted (I quartered them before adding them to the mix). I used orange bell pepper, and I used Valentina Muy Picante Salsa Picante for the hot sauce. I added a bit more than 3 dashes, because we like spicy ceviche. I really liked the olives in this, but I love green olives in pretty much anything. Thanks for posting! Made for ZWT5 Zingo

Delicious! I made half the recipe exactly as posted for ZWT5.
I made mine with shrimp instead of scallops (although I do love scallops in my ceviche). I also omitted the oil (less fat), added some orange bell pepper, used both jalapeno and red pepper sauces, added about a Tbsp of orange juice for sweetness and didn't add the olives until the end. We didn't care for the olives in this, but otherwise it was a perfect non-tomato ceviche! Made for ZWT5 for Family Picks for team Las Sirenas.