Peter J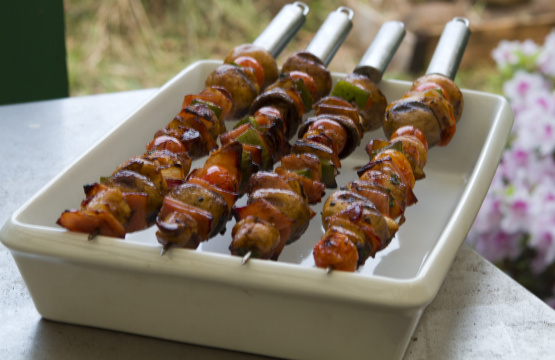 This recipe is wonderful served over rice with a salad and some bread. The sweetness of the scallops is perfect with the pineapple. Great summertime recipe. Marinating time is not included in prep and cook time.

Yum! Wonderful blend of flavors and cooking the bacon a bit in advance meant everything was perfectly cooked without over-doing the scallops. Only change I made was to cook 2/3 of the recipe as a dinner for two and didn't bother with any sides, the generous quantity of vegies made it a really complete and tasty meal in itself and a perfect meal for a warm evening.
Place the scallops, pineapple pieces, and vegetables in a large shallow container. Combine the remaining ingredients except the bacon. Stir well and pour the mixture over the scallops. Cover and refrigerate for 1 to 1 1/2 hours, stirring frequently.
Cook the bacon until limp but not browned. Drain and set aside.
Remove the scallops, pineapple and vegetables from the marinade, reserving the marinade. Alternate with the bacon on the skewers. (If using wooden skewers, soak in water for at least an hour).
Grill the kabobs over hot coals for 10 to 12 minutes (basting frequently), or until the bacon is crisp. Turn and baste frequently with the marinade.