Scallion Pancakes With Ginger Dipping Sauce
COOKGIRl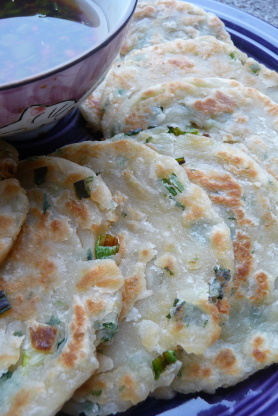 Definatly not your normal pancake, they are more like tortillas. Prep time includes resting time.

This was good, and very close to a recipe from a local restaurant that I love. I added some sesame seeds, when I added the green onions. I also added them to the sauce, which was quite good. I tried cooking them the way suggested, and then tried frying them in approximately 2 inches of veg. oil, in a saucepan, flipping them a couple of times. I liked the result from the frying better, as it was closer to the local pancakes. Thanks for posting this Chef Jean; they are the closest I've ever found!
Place flour in bowl of food processor. While running, add water in a steady stream. Process until a ball is formed.
Remove from bowl, divide into four pieces, round, cover with plastic wrap or a clean towel and let rest 30 minutes.
Roll out each piece into thin rectangles(about 1/4" thick). Brush with sesame oil and sprinkle with scallions and salt and pepper.
Roll up each piece jelly roll style, then twist into a tight coil. Let rest for 15-20 minutes.
Roll each piece out again into a 6" circle.
Heat non-stick skillet and brush with canola oil. Fry pancakes on both sides until golden brown. Cut into wedges and serve with dipping sauce.
For Dipping Sauce:.
Whisk all remaining ingredients together while dough is resting. Refrigerate until ready to use.