Mika G.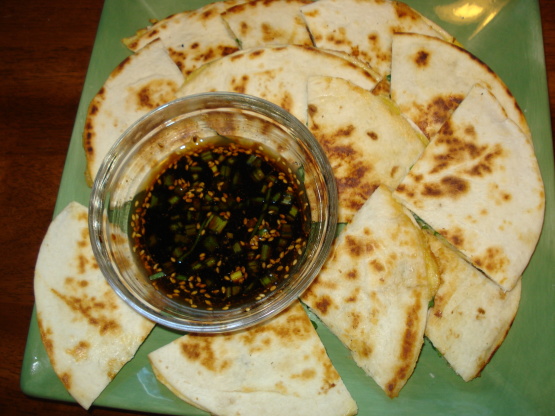 This is some gorgeous finger food, I got the recipe from some food magazine ages ago. Would go well as a apetizer to a Chinese or maybe Mexican dinner. I would suggest using small tortillas, but if you only have bigger ones you also need a bigger frying pan.

Outstanding! The only change I would make next time, and there will be a next time, would be to add a few more scallions. Not too much, but maybe 3/4 cup. Otherwise, wouldn't change a thing. Thnx for posting, kolibri.
In a small bowl, whisk together the egg and the sesame oil.
Put the tortillas on a flat surface and brush one side liberally with the egg-oil mixture.
In a small bowl, mix the scallions and the cilantro.
Divide the mixture between two tortillas, spread even but leave 1 inch border.
Pour reminder of the mixture on the scallions, but make sure you don't overdo it and it doesn't flood.
Top the filled tortillas with the remaining ones, brushed side down and press edges to seal. You might need to do this while frying too.
Heat the oil in a pan, add one pancake and cook until crispy and golden brown, about 2-3 minutes per side. Transfer to a plate and repeat with the other tortilla.
Cut pancake into six wedges and serve with a dipping sauce.