Scallion Butter Sauce Grilled Inside the Corn Husk
2Bleu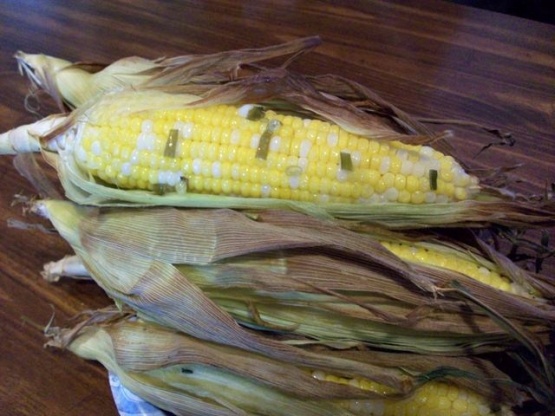 Perfect grilled corn inside the husk that's great around the campfire! Below are also oven baking instructions.
Melt butter in saucepan over medium heat. Add salt, scallions and lemon juice. Simmer over very low heat for 5 minutes to allow flavors to blend.
Pull back husk and remove silk strands from corn. Brush corn with butter sauce and then bring husk back over ears.
Grill corn 5" from heat for 20-25 minutes, turning occasionally. Serve with remaining butter sauce.
ALTERNATIVELY, you can bake in the oven for 30 minutes at 350°F Place 1 rack below the center and put a baking sheet on it. Place the other rack in the center of oven and place cobs on that rack, directly above the cookie sheet rack (to catch the drippings).