karen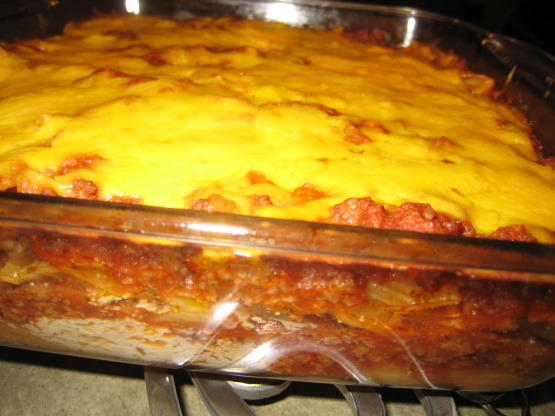 An easy and tasty casserole from the Junior League of Greenville SC...

Top Review by karen
I'm really surprised that I didn't like this recipe more. I love all of the ingredients and expected this to be a big winner. I was really excited to find something easy that looked so similar to my labor intensive lasagna. I wish I could say I loved it, but the sour cream flavor was just too separate for me. I think that I would have liked better with 1/2 sour cream and 1/2 cottage cheese more. There's nothing wrong with the recipe, I think it's just personal taste.
Brown the beef and drain well. Add salt, sugar, garlic powder, and tomato sauce. Simmer 20 minutes.
Mix sour cream, cream cheese, and onion powder.
Cook noodles as directed on package.
Place half of the noodles in a greased 13x9 casserole dish. Top with half of the sour cream mixture and half of the meat mixture. Repeat layers.
Top with cheddar cheese. Bake at 350 for 20-25 minutes.