Savoury Scrambled Eggs With Smoked Salmon (Low Fat)
lazyme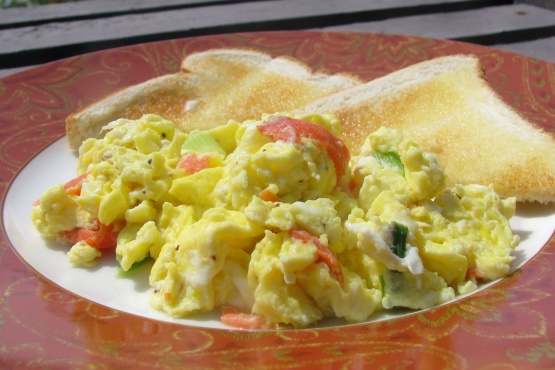 Smoked salmon has such a rich and salty flavor that a little bit goes a long way in this sophisticated take on scrambled eggs. You can serve this with a slice of toasted bread, with a smear of cream cheese. Enjoy!
Whisk eggs, egg whites and pepper in a small bowl until well blended.
Heat oil in a nonstick skillet over medium-low heat. Add onion greens and cook, stirring, until softened, about 30 seconds.
Pour the eggs into the pan and cook until they just begin to set, about 10 seconds; stir in salmon. Cook, stirring gently from time to time, until the eggs have thickened into soft, creamy curds, 3 to 5 minutes.
Serve immediately.