Prep 20 mins
Cook 17 mins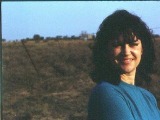 A simple low-carb savoury snack. It can even take the place of a carb like potatoes or rice, because it's filling. Crisply fried cumbled bacon or dried hot pepper flakes can be added to the mixture to add more oomph. I tried my idea in muffin tins first, but they were a little large. I've made it again, using patty tins. EDITED: I changed my mind about the patty pans -- they were too thin, and I think muffin hollows are still the best bet.
Directions
Patty tins: if not nonstick, grease with butter or a spray.
For patties, which are fairly thin, set oven at 300 deg F/150 deg Celsius.
If you decide to use muffin hollows, heat oven to 325 deg F/160 deg Celsius.
Put the ricotta in a bowl, and break up lumps with a fork until you have a crumbly mixture.
Fry the chopped onion in a little oil over high heat, stirring. When the onion bits have softened a little and just start to catch, add the balsamic vinegar (for flavour and colour). Stir well and fry a little longer, then take off the heat. The vinegar should cook away, leaving just the flavour.
Add the grated Parmesan, lemon zest, coarse pepper, salt, baking powder and parsley to the ricotta, and mix well by turning over and over.
Add the fried onion. Beat the eggs and add, then the olive oil, and mix to a moist consistency.
Fill patty pan hollows to the top, smoothing with a finger. (They don't rise much).
(Or fill muffin cups to the top). The recipe makes 7 muffins for me – I guess most muffin tins are the same size.
Bake patty tins for about 17 - 20 minutes, until edges are brown and tops start to colour.
Bake muffin size snacks for about 30 minutes.
Serve hot or cooled, not chilled. Handy for a quick snack with tea.
Most Helpful
I wonder if when my recipe printed out it was missing something, like flour or some other ingredient that would make these look more like the photos. There were half the indicated number of snacks, and I filled the muffin cups one half to two thirds full. They were oily and very salty and wet/soft, even after baking over 50 minutes. I ate two because I was half-starved, but the rest went into the trash.
I made these with a 12 slot muffin tin. The biggest problem was this recipe calls for WAY too much oil. 3 Tablespoons of olive oil is far too much. They came out soaking in oil, and that after two tablespoons of oil was added to sautee the onions. So the main thing is to cut down heavily on the oil content - just the oil used to sautee the onions is plenty - so adding even more at the end is unnecessary. Also, equal measures of salt & pepper is another problem. Most professional recipes call for 1/2 of pepper use to any salt. A teaspoon of salt here is too much, so a teaspoon of pepper is WAY too much. You can do with a half teaspoon of salt and a 1/4 teaspoon of pepper. This recipe has potential, but needs a lot of rethinking. They do need refrigeration to solidify. Agree with another poster here that these come out runny, wet and soft because there's no gluten to bind the cheeses together. We used 12 oz. of whole milk ricotta - which is creamy, not crumbly (this recipe says to break ricotta crumbles???). For the other 4 oz. we used a goat cheese - and it added a great depth of flavor. We also used rosemary and not parsley - which made it even more flavorful. But the way this is written, they surely do NOT turn out as they do in this photo. The picture here looks to have a serious amount of breading, or bread crumbs, in it to bind it that way.

I sauteed the onion in bacon fat and after I cooked it in the balsamic vinegar I added a teaspoon of minced garlic. It added a nice layer of flavor. I also used the red pepper flakes and sharp cheddar cheese. For my snacks I used a small cookie scoop to put the batter in my muffin tins. I also used melted butter to grease the pans. They are very soft and fluffy with brown edges. Very nice!!