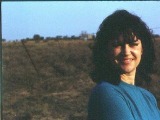 A simple low-carb savoury snack. It can even take the place of a carb like potatoes or rice, because it's filling. Crisply fried cumbled bacon or dried hot pepper flakes can be added to the mixture to add more oomph. I tried my idea in muffin tins first, but they were a little large. I've made it again, using patty tins. EDITED: I changed my mind about the patty pans -- they were too thin, and I think muffin hollows are still the best bet.
Directions
Patty tins: if not nonstick, grease with butter or a spray.
For patties, which are fairly thin, set oven at 300 deg F/150 deg Celsius.
If you decide to use muffin hollows, heat oven to 325 deg F/160 deg Celsius.
Put the ricotta in a bowl, and break up lumps with a fork until you have a crumbly mixture.
Fry the chopped onion in a little oil over high heat, stirring. When the onion bits have softened a little and just start to catch, add the balsamic vinegar (for flavour and colour). Stir well and fry a little longer, then take off the heat. The vinegar should cook away, leaving just the flavour.
Add the grated Parmesan, lemon zest, coarse pepper, salt, baking powder and parsley to the ricotta, and mix well by turning over and over.
Add the fried onion. Beat the eggs and add, then the olive oil, and mix to a moist consistency.
Fill patty pan hollows to the top, smoothing with a finger. (They don't rise much).
(Or fill muffin cups to the top). The recipe makes 7 muffins for me – I guess most muffin tins are the same size.
Bake patty tins for about 17 - 20 minutes, until edges are brown and tops start to colour.
Bake muffin size snacks for about 30 minutes.
Serve hot or cooled, not chilled. Handy for a quick snack with tea.