Savoury Lamb Mince (With Pomegranate Molasses)
JustJanS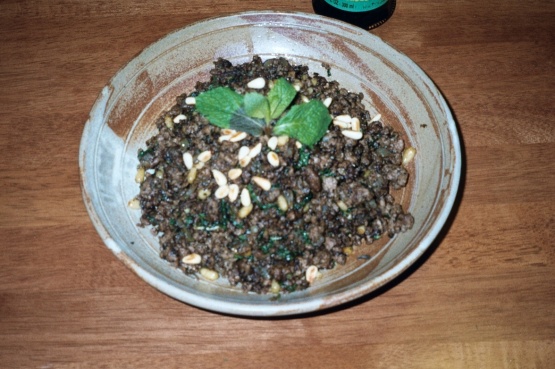 Our son gave us a bottle of pomegranate molasses. I found this recipe while looking for ways to use it. It is really tasty, but a bit on the dry side. We used the baba ganouj as a sauce, and that worked really well.

Good flavour but definitely too dry and I used much more oil. I used a combo of mainly canola oil and about 2 tbs unrefined extra virgin olive oil. I used extra lean ground beef which I use often but not alone. What helped make it less dry tasting is that I served the meat mixed through buttered white Basmati rice with a little chopped plumb canned tomato cooked in. I used sea salt and followed the rest exactly. I served it with Balkan (thick) yogurt.
Heat oil in a pan, and add the onions and garlic.
Cook over medium heat until golden and softened.
Add the lamb mince, and cook until all the meat has changed colour and it it well browned.
Add the remaining herbs and spices and mix through.
Add the pomegranate molasses and pine nuts (remember to reserve a few), mix through the mince and leave to rest.
Serve with oven toasted Turkish bread and Baba Ganoush.