Pamela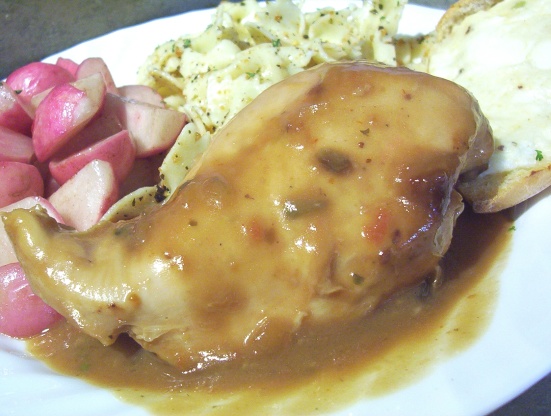 Absolutely delicious! Crowd pleaser. I have made this a few times for guests and I always had to write out the recipe. My grandfather is diabetic so I substituted dill relish for the sweet relish, pure fruit spread for the jam and Brown Sugar Twin for the sugar. *I only use skinless, boneless chicken breasts, but the original recipe calls for thighs.

Ohmigosh, this was amazing! I have to admit the ingredients sounded a little gross, but I decided to trust you since you said it was delicious. Delicious is not a strong enough word! The chicken was so tender and the flavour went right through each piece of chicken. I have made this recipe twice now, the first time the dish was quite messy, so the second time I lined the dish with Aluminum foil, clean up was a breeze, you may want to add that to your recipe directions!
Arrange chicken in an aluminum foil-lined, greased 3 quart (3L) casserole dish. [Thanks for reminding me Pennynickle ;) ].
Mix mayonnaise, chili sauce, relish, lemon juice and Worcestershire sauce in a bowl.
Stir in onion soup mix, jam and brown sugar.
Spoon sauce over chicken pieces, covering all chicken.
Bake uncovered for an hour at 350°F (175°C).
Baste half way through.