alligirl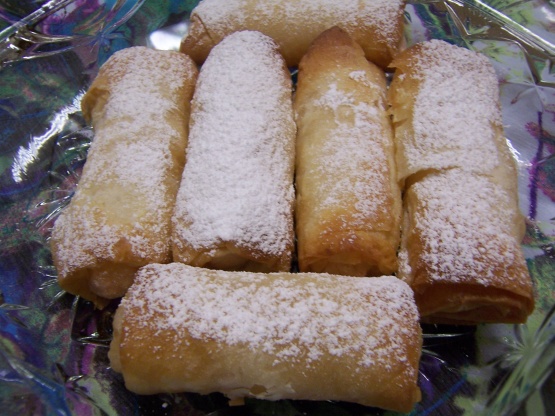 This was made by Naomi Crisante on James Reeson's Alive and Cooking. I did a savoury version using a herb and garlic cream cheese. It was also suggested you could do a sweet version using fruit filled cheeses. These creams cheeses come in 200 gram round packs in Australia and for this recipe a South Cape brand of Savoury Cream Cheese was used. Suggested you serve with a tomato salsa.

Pat, these are simple, and relatively easy to make. I made mine 'sweet', as opposed to 'savory', by using a strawberry cream cheese. I shaped into logs and froze for a bit, to harden the 'logs' up some. I did reduce the recipe, by half, and sprinkled with powdered sugar before serving. They were lovely as a dessert; I could even see them on a pastry tray for breakfast! I will try them with an herb and garlic cream cheese soon! Thanks so much for sharing, Pat!
Preheat oven to 220°C.
Cut savoury cream cheese into 12 wedges and then roll each into a log shape.
Working with one piece of filo at a time (keep rest covered to prevent drying out) brush with butter and then place a cheese log on the short side and foll up into a cigar shape, folding in the edges to enclose the cheese.
Brush with butter and place on a baking tray, proceed and make the other 11.
Sprinkle with seeds of choice and bake at 220C to 8 to 10 minutes or until golden.
Serve with a tomato salsa.