Savoury Cheeseburger Onion Pie
LiaCN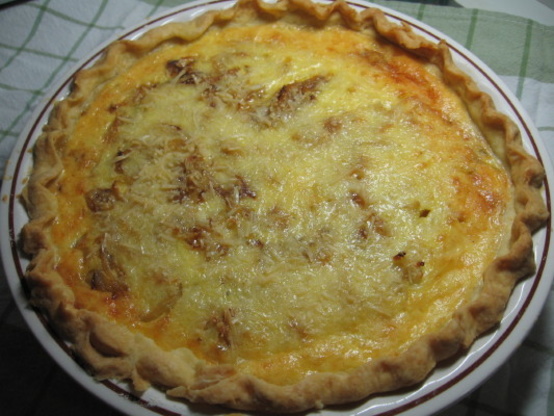 This pie is *so* good, if you love onions you will LOVE this, this recipe makes two pies! I most always add in dried chili flakes and a chopped jalapeno pepper in with the ground beef mixture to kick the heat up, one or two more onions won't hurt either, you can use frozen store-bought crusts if desired and the ground beef mixture may be made a day in advance and refrigerated!

This was so good! I made last weekend last minute and whole family enjoyed. Somehow the bottom shell was a little gooey & undercooked, didn't want to burn rest of pie though- will pre-cook crust 1st when making again. Also, next time I will omit the green bell peppers and perhaps add in some bacon bits instead. Kiddies just didn't like the pepper is all, but this will be a regular rotation meal in our household for sure! TY for posting.
Fit each pastry into the pie plates and flute edges as desired; cover and refrigerate until ready to fill.
In a large skillet cook the ground beef with onion, bell pepper, thyme and garlic until the beef is well browned; drain fat.
Mix in Dijon mustard, Parmesan cheese and chili sauce; simmer for about 5 minutes, stirring occasionally.
Season with seasoned salt and black pepper to taste; cool to almost room temperature.
Divide and spread the ground beef mixture over the pie shells.
Top ground beef with about 1 cup grated cheddar cheese; set aside while cooking the onions.
In the same skillet saute the onions in butter with 2 teaspoons sugar for about 20-22 minutes or until soft and just beginning to brown.
Sprinkle the top of the cheese evenly with the onions.
In a bowl whisk together half and half with eggs and cayenne pepper then pour half of the mixture over the onions.
Sprinkle about 2/3 cup Parmesan cheese over the top of each pie.
Place both pies on a large baking sheet to catch any spills.
Bake 425 degrees F for 15-20 minutes.
Reduce the heat to 350 degrees and continue baking for 20-25 minutes or until filling is set.
Let sit for 20 or more minutes before slicing.
Delicious!