Savoury Cheese & Walnut Sables for Cocktails and Parties!
Bonnie G 2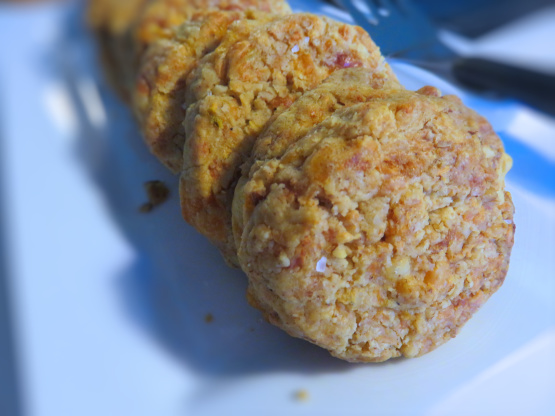 These delicious crisp and light little savoury biscuits/crackers are a firm favourite in our family, especially when served with the cheese board! They are also great served with soups, dips, & salads. I have used pecans instead of walnuts in the past with the same tasty results. You can omit the chilli or cayenne pepper if you are not keen on the spicy "kick" it gives! They are very nice at Christmas time if you cut them into star shapes & serve them as aperitif snacks, or with cocktails.

I just made a double batch of these - absolutely delicious!! I did use half cheddar cheese, and half parmesan, so it was extremely flavourful. I also used half cayenne and half dry mustard powder and also added some dried rosemary. Putting the logs into the freezer for 10 minutes after refridgerating helps it keep its shape. A note to any novice cooks - it is easiest to mix in the milk using a knife, and also to squash and shape the logs roughly before rolling smooth, as this helps get the air out of the mix (and stops it collapsing in spots). Leave a little room to spread too! I will be making these again soon - I think pistachios could go well in them too..
Sift the flours, salt, pepper & chillies into a bowl together & mix.
Rub in the butter until it resembles breadcrumbs.
Add the cheese & walnuts - mix well.
Add the beer or milk - mix into a dough.
Chill for 30 minutes.
Roll out on a floured board and cut into small rounds.
Place on a greased baking (cookie) tray and bake in pre-heated oven 180C/360F for about 15 minutes or until golden brown & crisp.
Sprinkle with seasoning salt or Cayenne pepper if you wish.
Cool on a wire rack and store in airtight tins.
Serve with cheese, cream cheese & savoury fillings & dips, or just by themselves!