teresas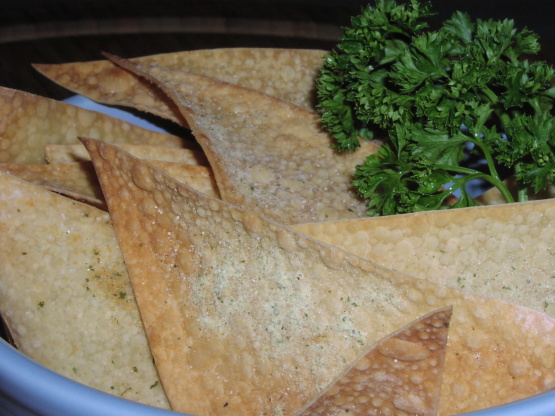 From Taste of Home's Cooking For 2 Magazine, Fall 2006. Such an easy recipe with only 2 ingredients! Yummy snack.

I've made these a couple of times now, and they're a hit! I've used ranch dressing, taco seasoning, wasabi salt, and garlic powder and salt. All four of these have been good, and I'm sure there are lots of other combinations to try. I don't find it necessary to turn them over, I just watch them very closely so they don't burn. Excellent!
2

teaspoons buttermilk ranch salad dressing mix
Cut each wonton wrapper in half diagonally. Sprtiz with nonstick cooking sray. Rub dressing mix over wrappers. Place on a baking sheet coated with nonstick cooking spray.
Bake 375 for 3 minutes, turn over and bake 2-3 minutes longer or until crips. Immediately remove to a wire rack to cool.