Rita1652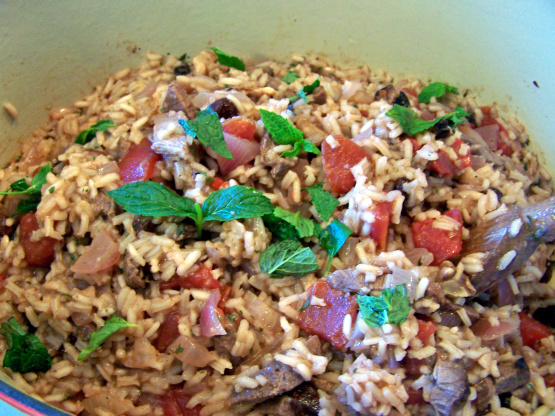 I love this recipe for company--I've been making it for decades, but can't remember where I originally got it. It cooks on the stove but I like to serve it in a baked bean crock I own. Sauteing the raw rice in the same butter you sauteed the lamb in BEFORE you cook the rice enhances the flavor somehow. A real treat if you like lamb!

I did this a bit differently but the result was tasty. Although the instructions have got to be revised as to adding the spices and raisins I didn't take that into account in my staring. I forgot to add raisins because of that reason and when I remembered I just decided I may as well leave them out. I used salted butter, extra lean ground beef with some extra butter. I used Basmati rice and 1 tbs tomato paste because we don't like cooked chunks of tomato. If I add raisins another time I will use dark ones. I used sage in a lesser amount as the dish I was serving it with contained sage as well. I just used the water option and made sure to add enough sea salt to taste. I added the chopped parsley option which was good. I would make this again.
Heat the butter over medium heat and sauté the lamb until brown.
Remove the meat from pan and keep hot.
In the same butter, cook the onion until it is soft but not brown.
Add the nuts and rice and cook for 5 minutes, stirring constantly.
Add the tomato through the bouillon; the dish will sizzle.
Stir and cover tightly.
Reduce heat to the lowest possible heat and cook until the rice is tender and all the liquid absorbed (20-30 minutes).
Return the lamb to the rice and heat thoroughly.
Let stand, covered, in a warm place 15 minutes without cooking.
Sprinkle on parsley or mint.