Savory Turkey-Ricotta Meatballs
gailanng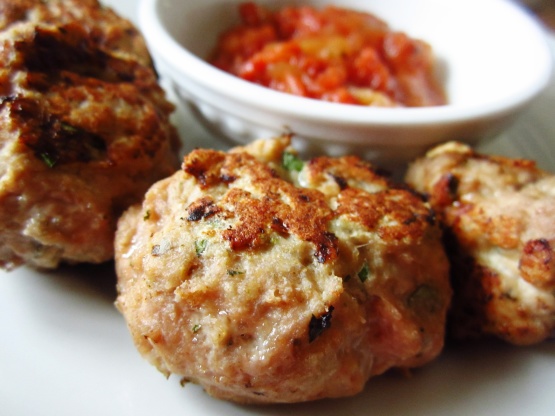 I'm not one to usually do turkey in my meatballs, but I saw this recipe in the recent issue of Cooking Light and decided to try since they are lower in fat. These can be used in spaghetti, substitute for beef in Stroganoff, or serve as as appetizer with warmed marinara dip, as the magazine suggests. Ricotta helps keep the lean ground turkey breast moist. Prepare them in advance, if you like, and store in the freezer for up to three months.
These are seriously good! The first time I made them I didn't have fresh basil on hand so I substituted a couple of tablespoons of pesto instead and omg, we devoured them! I prefer these now to regular meatballs because these are far superior in flavor, plus healthier! So good in fact the husband asked to make these tonight for dinner and we'll eat them over some spaghetti squash. Can't wait to munch on these bad boys!
Preheat oven to 375 degrees.
Combine ground turkey breast with the other ingredients in a bowl and then shape mixture into about 18 meatballs.
Heat a large nonstick skillet over medium-high heat.
Coat pan with cooking spray.
Add meatballs, and brown on all sides.
Remove from skillet; transfer to a broiler pan coated with cooking spray, and bake for 15 minutes or until done.
To freeze: Follow cooking directions, then allow meatballs to cool to room temperature.
Place on a baking sheet, making sure they don't touch one another, and place in the freezer for an hour.
Next, transfer hardened meatballs to an airtight container, and store in the freezer.
Thaw meatballs in the refrigerator, then bake at 375 degrees for 20 minutes or untinl heated.