Karen..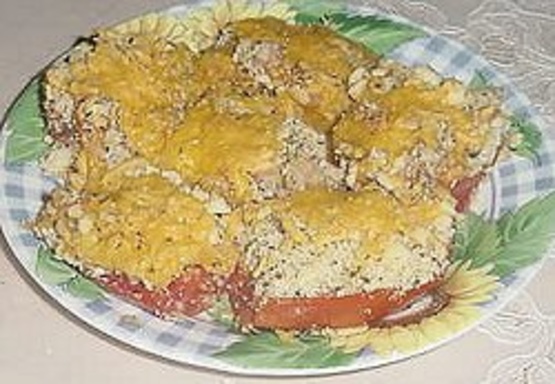 This is my favorite 'tomato-as-a-side-dish' recipe. It adds color to your plate, great flavor, and depending on what crumbs you use, can be low-fat (low-fat cheese works well, too), and can take on a variety of flavors.

I was very surprised at how great these turned out! I had some plum tomatoes from my garden, so I used them. I used Ritz for the cracker crumbs. I started in the micro and then moved to the oven, since I had chicken cooking in there at high heat anyway. I normally do not go for hot tomatoes, but this almost tasted like pizza. Me and my 12 yo daughter (the only tomato eaters in the house) scarfed them down! Thanks for a new way to use tomatoes. P.S. Posted a picture, but it does not do them justice. They are nice enough to served for company.
4

medium tomatoes
salt and pepper
1⁄2 teaspoon crushed basil
1⁄2 teaspoon crushed oregano
1⁄3 cup coarsely crushed cracker crumb (or crouton crumbs)
1⁄3 cup shredded cheddar cheese (reduced fat, if desired)
Remove stem ends from tomatoes.
Cut tomatoes in half horizontally.
Trim ends to make the halves stand flat, if necessary.
Arrange cut side up on microwaveable plate.
Mix crumbs and herbs; mound evenly on tomatoes.
Microwave uncovered on high for 2 minutes, rotating after 1 minute.
Sprinkle cheese on top of tomatoes and either microwave 1 minute until cheese is melted, or transfer tomatoes to an appropriate pan to broil in the oven or toaster oven until the cheese is bubbly and begins to brown.