3 Reviews
Excellent and easy to make.
We were really pleased with this and would make it again, least of which it was easy. My BF was interested in a warm and not too spicy dish and this fit the bill. We used oil marinated artichokes but drained and rinsed to get rid of excess cals. Used about 1 tablespoon oil and used a 6 ounce box of tomato and lentil flavor couscous. Was very yum!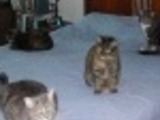 Very good and interesting dish which we enjoyed. I made some minor changes to this recipe based on what I had on hand by using only one carrot and used Rotel tomatoes instead of unspiced tomatoes. I really liked the spicy tomatoes in this dish, but next time I will definitely use all 4 carrots and thought some other veggies would be wonderful in this dish too. Thanks for sharing this easy-to-make keeper!
Savory Tofu and Vegetables over Tomato Couscous