Savory Tofu and Vegetables over Tomato Couscous
Prep 20 mins
Cook 25 mins

A vegetarian couscous recipe I found in Vegetarian Times. I haven't had couscous with tofu or artichoke hearts before, so I'm interested in trying this.
Directions
Combine artichokes and liquid, tofu, cumin, and 3/4 teaspoons pepper in nonsick skillet. Cook over high heat 5 minutes or until liquid evaporates, stirring constantly. Transfer to bowl and set aside.
Heat oil in same skillet over medium-high heat. Add carrots, leeks, and 1/4 teaspoons pepper. Cook 10 minutes, or until carrots are tender and leets are lightly browned.
Meanwhile, bring tomatoes and liquid and 2/3 cup water to a boil in saucepan. Stir in couscous, cover, and remove from heat. Let stand 5 minutes, then fluff with fork.
Add garlic and reserved tofu mixture to vegeable mixture in skillet. Cook 3 minutes over medium heat, or until heated through and garlic is fragrant. Serve tofu and vegetables over tomato couscous.
Most Helpful
Excellent and easy to make.
We were really pleased with this and would make it again, least of which it was easy. My BF was interested in a warm and not too spicy dish and this fit the bill. We used oil marinated artichokes but drained and rinsed to get rid of excess cals. Used about 1 tablespoon oil and used a 6 ounce box of tomato and lentil flavor couscous. Was very yum!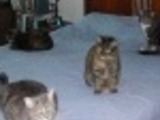 Very good and interesting dish which we enjoyed. I made some minor changes to this recipe based on what I had on hand by using only one carrot and used Rotel tomatoes instead of unspiced tomatoes. I really liked the spicy tomatoes in this dish, but next time I will definitely use all 4 carrots and thought some other veggies would be wonderful in this dish too. Thanks for sharing this easy-to-make keeper!