Annacia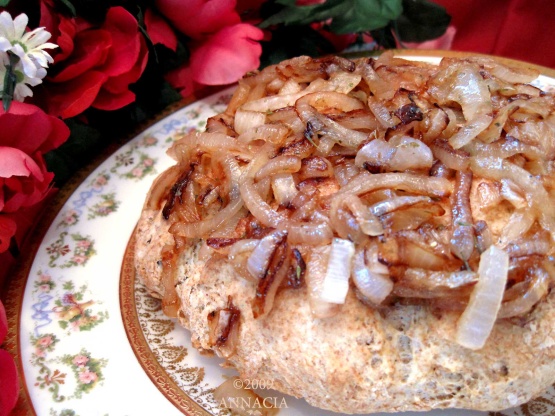 Serve along side soup or chili.

The scones are fabulous, They baked up tall, tender and perfect. I used 1 cup whole wheat flour and 1/2 a cup of white in the half recipe I made and skipped the sugar. I would increase the salt and herbs next time. I made the onion topping as ask with the exception of cutting the sugar in half and I still found it too sweet for my personal taste. I thought that there was a very good chance that it would blend in well with the onions and I know that most folks will really love it. The recipe is faultless and works like a charm. The ingredient amounts and timing are right on (I baked at 400 as my oven runs hot). Really a top notch recipe for workability, scone quality and for 99.9% of the reviewers topping flavor.
Preheat oven 425 degrees.
Combine first 8 ingredients; cut in butter until mixture resembles course crumbs.
In a bowl, whisk together egg and buttermilk; add to dry ingredients.
Turn onto a lightly floured board; knead 6-8 times. Pat dought into two 6" circles. Place on greased baking sheet.
Score surface with shallow cuts to make 6 wedges. Place topping over dough.
Bake 425 degrees 20-25 minutes or until golden.
Directions for topping:.
In skillet, saute onions in butter until tender. Remove from heat. Stir in remaining ingredients.