Savory Sausage Salad (aka Wurstsalat)
Mercy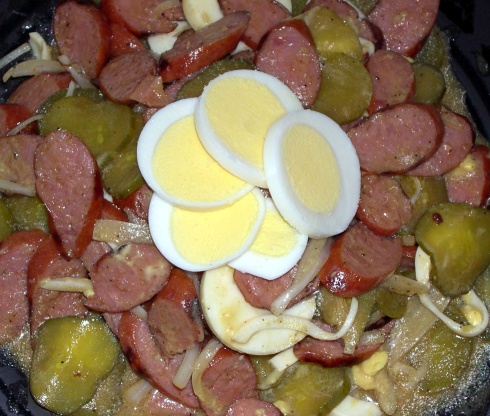 I had never had wurstsalat until I sampled some at Disney's Epcot's Biergarten in the German pavillion. One bite and I was head-over-heels! I came home and scoured the net collecting every recipe available because theme park admission is just too darn expensive to shell out every time a craving hits. This is the culmination of my efforts. If you want to stretch it out a little bit, toss 2 cups of sliced cooked potatoes in with the mix.

Yum! We made this for my husband's company picnic. We used smoked sausage (it was on sale) and didn't have beef broth, so we substituted some chicken broth with a couple shots of worcestershire sauce. We followed the rest of the recipe exactly (except I didn't marinate the eggs, as other reviews advised), and added swiss cheese as other reviews suggested (i would have preferred cubed, but since we were in a hurry, i just tore up some cheese slices). It was delicious and a big hit! Next time we'll try it with potatoes. Thanks so much for sharing.
Whisk the dressing ingredients together.
Toss the salad ingredients with the dressing.
Refrigerate for 2 hours prior to serving to let the flavors blend.