Savory Sausage and Peppers
Kathy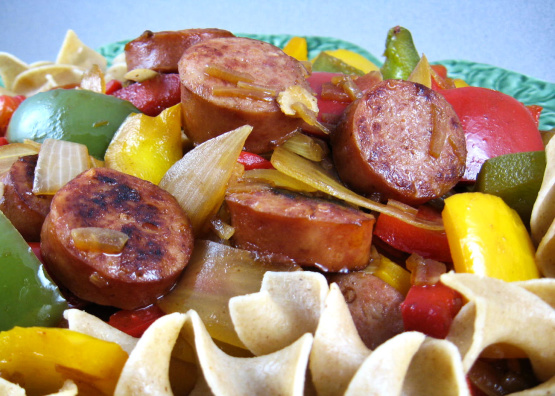 This dish from Quick Cooking Magazine is as colorful as it is delicious. We hope you enjoy it as much as our family does. Instead of using herb and garlic soup mix we use a regular envelope of onion soup mix with 1 t cornstarch mixed in the water. I also add zucchini slices.

Top Review by Kathy
Loved it! I tend to overlook kielbasa when planning meals, but recently I've come across some fabulous kielbasa recipes, including this one. I wasn't crazy about serving it over rice. I also tried serving it with egg noodles and wasn't happy with that combination either. Next time I might try it with couscous or quinoa.
1⁄2 lb fully cooked kielbasa or 1⁄2 lb Polish sausage, cut into 1/2 slices

3

teaspoons olive oil or 3 teaspoons vegetable oil

1

red pepper, cut into 1 chunks

1

yellow pepper, cut into 1 chunks

1

green pepper, cut into 1 chunks

1

onion, cut into small wedges

1

cup water

1

(1 1/4 ounce) package herb with garlic soup mix
1⁄8 teaspoon hot pepper sauce
hot cooked rice, serve with
In large skillet, brown sausage in oil over med high heat.
Remove with slotted spoon and keep warm.
In drippings, saute peppers and onion until crisp tender.
In a bowl, combine the water and one soup mix envelope.
Add soup mixture, hot pepper sauce and sausage to the vegetables.
Reduce heat.
Cover and simmer for 5 minutes or until thickened.
Serve over hot, cooked rice.