Savory Roasted New Potatoes
Prep 15 mins
Cook 50 mins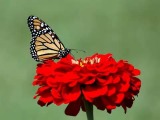 Recipe is from the Colorado Collage, Junior League of Denver, Colorado. Love the combination of the paprika, garlic and rosemary rub and then the worcestershire sauce sprinkled on top.
Directions
Place potatoes in a large heavy-duty zip-top plastic bag. Combine rosemary and next 4 ingredients; add to bag. Seal bag securely, and shake until potatoes are coated evenly. Spread potatoes in a single layer in an ungreased 15 x 10 x 1 inch jellyroll pan.
Combine oil and Worcestershire sauce; drizzle over potatoes. Bake, uncovered, at 375 degrees for 45-50 minutes or until potatoes are tender, stirring occasionally.
Reviews
Most Helpful
I just loved these potatoes. The only thing I might do differently is add the garlic to the potatoes in the bag, then mix the dry ingredients. The minced garlic was wet and the spices stuck to it, instead of coating the potatoes. I also reduced the rosemary in half, due to personal preference. Everyone enjoyed these tonight at dinner!

Loved the color and and flavor the paprika added, even though I only had the sweet kind. Crispy on the outside, creamy on the inside. Yum! Thank you.

Oh yum, really yummy but quite spicy, a little too much so for my 6 year old so cut back on paprika for the littlies.. I used fresh rosemary from the garden & the potatoes crisped up beautifully, the worcestershire was a nice touch. Thanks for posting!