This is a savory all in one that is excellent for use on just about any dry roasted red meat or poultry. I developed it out of reminiscences of holiday roasts that filled the house with delicious aromas. We used to season with each ingredient separately, but decided that it was quicker and easier to put it together ahead of time. It is a very frequent use item in our pantry, and you can be gauranteed a perfect roast beef, or pork roast every time. This makes a large quantity, but if you serve it to company, you will get alot of request for a little to take home. We probably send 2-3# home with folks per year. You can omit the MSG if you like, but it is a very worthwhile ingredient in this rendition.
Directions
Combine all ingredients in a bowl, and whisk together well. Can also be blended in the food processor.
Coat all sides of roast well and rub inches.
Allow to macerate for an hour or so.
Roast meat as you normally would.
Be prepared to fill the house with an aroma thick and delicious enough to eat.
Most Helpful
Please would you not use MSG in your recipes and suggest other alternatives. It is a flavor enhancer which disagrees with many people.
I liked this recipe.<br/><br/>I replaced the MSG with dehydrated onion, since onion contains glutamine. I also replaced the marjoram with oregano, because I don't like marjoram much.<br/><br/>I used it on a pork loin roast. I liked the flavour very much, but I don't give it 5 stars because I thought there was way too much salt and not enough spices. Next time, I might use the spice mix, with the onion and no salt or MSG, and put Dijon mustard on the roast prior to rubbing to give a little saltiness and help the spices cling onto it.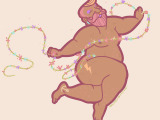 I really liked this rub recipe. (I did omit the MSG it does not agree with me) I marinaded a bone-in chuck steak just for a few little hours. (imagine overnight!!) I used teaspoon measurements since the amount of meat was small. I used the meat in the cabbage and beef soup recipe #21886 instead of ground beef, and I'm glad I did. The meat smelled heavenly while I was browning it. Will definately make a bigger batch to store/can't wait to add this to other meat stews, roasts and soups. Thanks for a great rub recipe.