Savory Rice Pilaf With Lavender & Apricots
Kathy228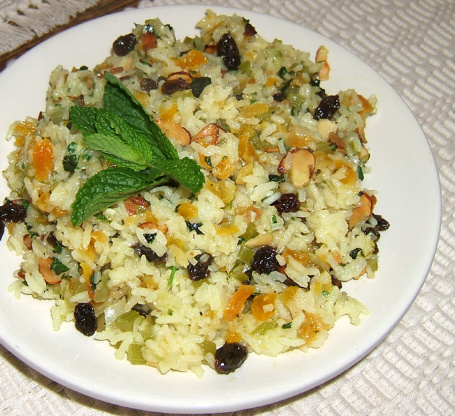 I got this recipe from the herb gardeners at Festival Hill in Round Top, Texas. It is the most beautiful pilaf and has a lovely taste. Just don't tell finicky eaters what's in it.

Very good flavor and colorful with the bits of apricots and flecks of lavender. The length of time to cook the rice after lowering the heat wasn't exactly clear,but since the total cook time given was 35 minutes, I assumed that 28 minutes or so was intended. The rice was not ready by then, so I continued cooking far longer, raising the heat to speed up the process. Next time I would toss this into a rice cooker after sauteeing the rice in the butter step.
Melt butter in medium saucepan; gradually add onion and celery; cook until wilted. Add garlic and rice; stir until thoroughly coated with butter.
Add broth, ginger, lavender and salt.
Bring to boil; reduce heat to low.
Cover and cook without stirring until liquid is absorbed.
When rice is tender, stir in currants, apricots, and lemon juice.
Remove from heat and let stand covered to soften fruits.
Add nuts and herbs and mix well.
Serve immediately.