Bobtail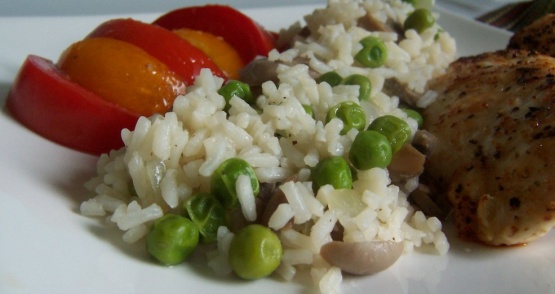 Nice side dish served with Chicken or Pork Chops. Not sure of where I got the recipe. Found it in my notes on my desk.

This is a really delicious recipe. I love how easy it is to make and the ingredients are probably always in your pantry and freezer. My onion was really small, probably about 1/3 of a cup, so, since I love onion I will probably add more next time. Also, I may saute the mushrooms along with the onion and carmelize them a bit. I served this along with sliced yellow and red tomatoes drizzled with italian dressing and pan sauted chicken tenders YUMMY! Thanks for a keeper, Marsha D!
In a large saucepan add butter and onion.
Saute together until tender.
Add chicken broth,mushrooms and peas.
Stir and bring to a boil.
Stir in Minute made rice, cover pan and remove from heat. Let Stand 5 minutes
Stir with fork and serve.