Bergy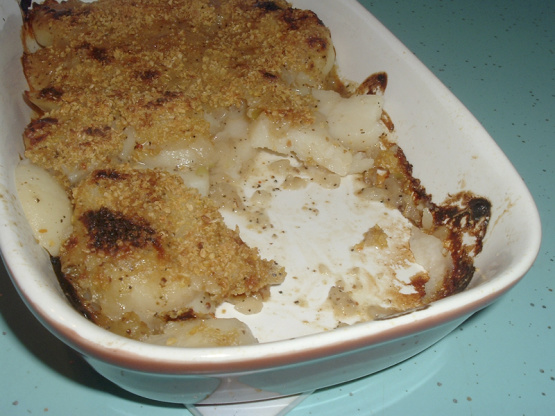 This recipe is an internet find and the delicious flavor surpassed my expectations. Try to use potatoes of equal size if possible for best results.

Top Review by Ozemum
I've made this recipe twice now for different company, and both times it was enjoyed by all. This one is a keeper. Thankyou FlemishMinx for posting.
Butter a 9 x 9 inch baking dish.
Cook potatoes whole in boiling salted water until tender.
Drain and let cool.
Preheat oven to 375°F.
In the same pan as you boiled the potatoes in, saute onion in butter over medium heat until tender and golden, about 5 minutes.
Stir in all of the flour and the pepper, mixing well.
Add the water and the bouillon cube and bring to a boil.
Boil for one minute, stirring.
Remove from heat.
Whisk in all of the mustard and the horseradish.
Slice the potatoes 1/2 inch thick, and layer them in the baking dish.
Cover the potatoes with the sauce and sprinkle with the bread crumbs.
Bake for 15 to 20 minutes, until hot and bubbly.