ImPat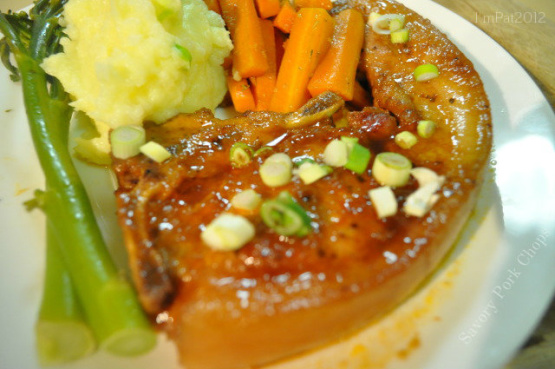 Found this in a Firehouse Collection Recipe Book. Pretty quick to make on a weeknight!

Top Review by ImPat
I uaed bone in pork loin chops but had problem with the gas going off during the simmering process so my chops ended up a little overcooked but still tasted great (would consder adding a little cornflour slurry to the sauce if you prefer a thicker sauce over your meat) but we were happy with it as it was but inthe end all three plates ended up with shiny bones. Thank you breezermom, made for Photo Tag game.
Combine the flour, cavendars greek seasoning, mustard, and pepper in a small bowl, stirring well.
Dredge the chops in the flour mixture; cook in oil in a large skillet over medium high heat until browned on both sides. Remove the chops, and discard the drippings.
Combine the water, soy sauce, ketchup, and orange marmalade.
Return the chops to the skillet, and pour the sauce over the chops. Bring to a boil; cover, reduce the heat, and simmer for 20 minutes or until the chops are tender, turning once.
Sprinkle with green onion slices.