Diana 2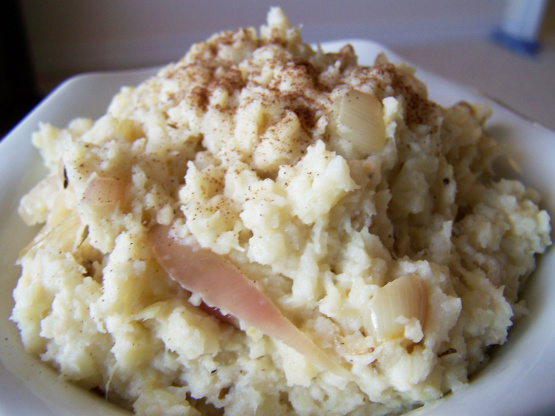 When shopping for parsnips, chose the smaller ones which are far more tender than the larger ones. The smaller parsnips tend not to have the woody inside core that you find with larger or older parsnips. This savory dish is a nice alternative to mashed potatoes and it is the perfect side for most meats.

This was my dinner tonight, what a lovely puree! The subtle flavor of the parsnips went wonderfully with the shallot - garlic butter and the horse radish gave it that extra kick. I sprinkled it with chives and served it as a side to pan fried tilapia, delicious!
I will make this again! Made and reviewed for RSC Potion # 18.
2 1⁄2 tablespoons unsalted butter

1

garlic clove, small, minced

1

shallot, French, large, finely chopped
1 -1 1⁄2 teaspoon thyme, fresh, leaves finely chopped

1

teaspoon sea salt
1⁄2 teaspoon black pepper, freshly ground

2

tablespoons horseradish cream
2 1⁄2 lbs parsnips, small, peeled and chopped 3/4 inch pieces

2

cups chicken stock
1⁄2 cup water
3⁄4 teaspoon allspice, freshly ground
1⁄3 cup 10% cream
1⁄8 cup yogurt, plain, thick
1⁄16 teaspoon allspice, garnish
In a small pan add butter, garlic and shallots, cook on low heat allowing to lightly caramelize, remove the pan from heat, season with thyme, salt, pepper and horseradish cream, set aside until needed.
Place the parsnips in a saucepan and cover with chicken stock and water, add the freshly ground allspice and stir, bring to a boil over high heat.
Reduce the heat to medium and simmer for 15 - 20 minutes, then drain. The parsnips should be tender, but not mushy.
Now return the parsnips to the saucepan and add the 10% cream, mix well and cook for another 5 minutes on low heat, stirring periodically.
Remove from heat and mash with a potato masher. If too thick add a little more of the 10% cream, please don't forget that you will be adding yorgurt next.
Stir in the yogurt, the buttered garlic and shallot mixture and mix well, if necessary re-season with salt and pepper to taste and garnish with a pinch of allspice, serve immediately.