Savory Parmesan Shortbread Rounds
Sonya01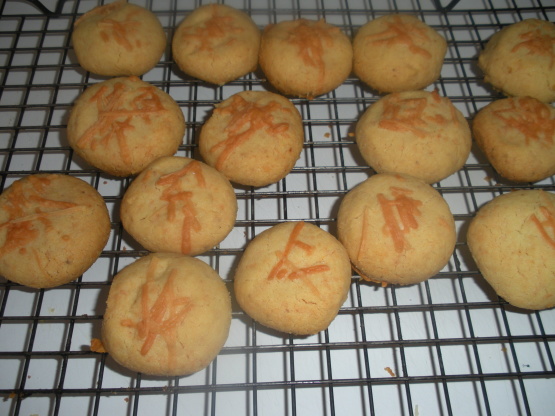 Found this in the December, 2007 issue of Bon Appetite, as I was clearing some space for more recent magazines. I haven't made them, but didn't want to let the recipe get away. Their serving suggestion - with pre-dinner drinks or on a salami platter.

Made for NZ/AUS Swap#43 These are simple to put together and tasty morsels. Like the other rater they are moorish and I know will be wonderful with soups and stews over the cold months to come. The mix of the dough with the garlic and cheese make the stand above the regular biscuit. Thank you Jane for my evening snack.
Pre-heat oven to 350*.
Line baking sheet with parchment paper.
Mix flour, 3/4 cup Parmesan cheese, salt, garlic, and cayenne pepper in food processor.
Add butter, and using pulse, process until dough begins to come together.
Gather dough into a ball.
Divide dough in half. Roll each half into 12-inch log.
Cut each log into 1-inch pieces.
Roll each piece into a ball and arrange on baking sheet about 1 1/2 inches apart.
Press each ball into 2-inch diameter rounds.
Sprinkle remaining 2 Tbsp Parmesan cheese over.
Bake shortbread rounds until tops are dry and bottoms are golden brown; about 20 minutes.
Transfer rounds to rack and cool completely.
NOTE: Can be made 1 week ahead and stored in airtight container at room temperature, or freeze up to 1 month.