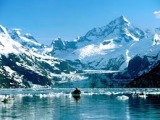 Frozen puff pastry becomes your best friend in this recipe. (I didn't have a box on hand when writing up this recipe so the 16 oz. is a guess. Just buy one box with 2 sheets of puff pastry.) It's so easy to use and is available in the freezer aisle in most grocery stores. Palmiers are usually sweet but here they are baked with pesto, goat cheese and sun-dried tomatoes to make a savory treat. Great to serve with cocktails. Recipe by Ina Garten, The Barefoot Contessa.
Directions
Lightly flour a board and carefully unfold one sheet of puff pastry.
Roll the pastry lightly with a rolling pin until it is 9 1/2 x 11 1/2 inches.
Spread the sheet of puff pastry with half the pesto, then sprinkle with half the goat cheese, half the sun-dried tomatoes, and half the pine nuts. Sprinkle with 1/4 teaspoon salt.
Working from the short ends, fold each end halfway to the center. Then fold each side again toward the center until the folded edges almost touch. Fold one side over the other and press lightly.
Place on sheet pan lined with parchment paper.
Repeat with the second sheet of puff pastry, using the remaining ingredients.
Cover both rolls with plastic wrap and chill for at least 45 minutes.
Meanwhile, preheat the oven to 400 degrees F.
Cut the prepared rolls of puff pastry into 1/4 inch thick slices and place them faceup 2 inches apart on sheet pans lined with parchement paper.
Bake for 14 minutes, until golden brown.
Serve warm.
Reviews
Most Helpful
Somebody at work brought these in for our holiday meal and oh MY they were good! I'll definitely start keeping puff pastry on hand in case I need to make a scrumptious appetizer...
Loved these palmiers - they are delicious and have a great presentation. Wish I could have bottled the aroma coming from my oven! They are so easy to make and the results are a wonderful appetizer to wow guests or just the family. Used feta vs. goat cheese as I did not have it and they were just fine. Also, left some of my pine nuts whole -- they really stand out that way. Made for Everyday is a Holiday tag, July, 2012.

these turned out very well! I used feta that was leftover from xmas, marinated in a pesto sauce :) I used the last of mirj's oven dried tomatoes, and the last few pinenuts in the jar! I love that you can do this ahead of time, and bake when your ready! made for aussie swap, jan 2010