Savory Oven-Baked Beef Stew
Catnip46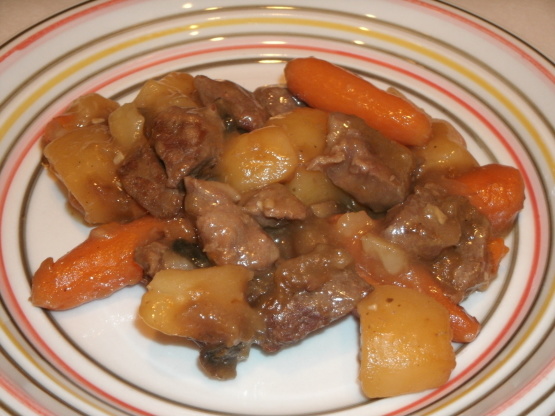 Now that the colder weather is here, it's a perfect time for a hearty, stick-to-your-ribs, one pot meal like this delicious stew. Sometimes I have used lean ground beef in place of the stew meat in a pinch. Serve with a crusty bread or warm rolls for a complete dinner.
It was good. Easy to make. Not a ton of flavor, but the kids ate it. I think I still prefer slow cooking beef stew, but this is nice for a somewhat last minute meal choice.
Heat oven to 325 degrees.
Meanwhile, heat oil in Dutch oven.
Brown beef.
Add flour, salt, garlic powder, marjoram and pepper.
Stir in undrained tomatoes and beef broth, mix well.
Bring mixture to a boil, stirring frequently.
Add remaining ingredients and mix well.
Cover, place in oven and bake at 325 degrees for 2 hours or until meat is tender.
Stir twice during baking.
Remove bay leaf before serving.