Savory Organic Golden Beets With Greens
ChefLee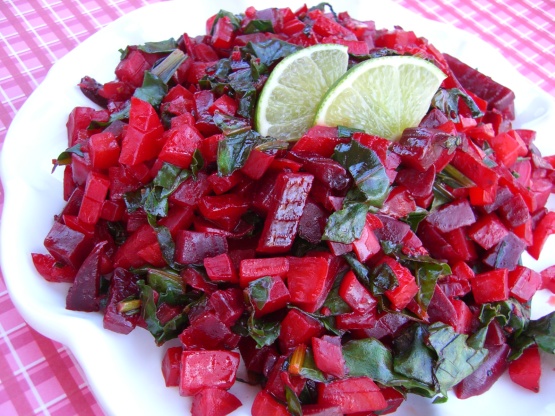 A colorful side dish that is savory to the taste. It is simple and easy to do. Please feel free to add other ingredients to your liking.

Top Review by Canwi
Have had beets before and not been very impressed. I don't like pickled beets/beetroot. So when I'm given them, I really get flummoxed as to what to do with them. Voila!!!
DH was duly impressed with these. Chose to use the lime on another reviewers ravings, and would deffo recommend it.
2

cups water
one bunch beet, with the tops (red or yellow, 3 medium sized beets)
1⁄2 teaspoon salt
Clean and dice beets.
Clean green tops of beets.
Crush and chop the garlic clove.
Add the beets, garlic, salt into a HOT fry pan. There is no need for oil because you are trying to braise the beets to keep the flavor.
Turn the heat down to medium, once the beets start to brown add the water until the beets are soft and can push a fork into them - about 20 minutes. The water will evaporate down, chop and add the greens and squeeze the lemon or lime into the dish cover and cook on medium heat until wilted. Serve right away and enjoy.