Savory Onion, Potato and Blue Cheese Frittata
PaulaG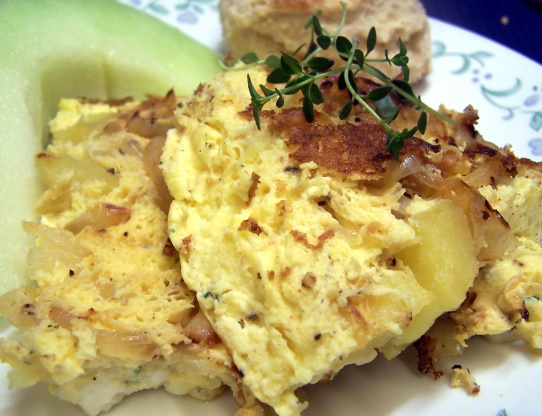 To save time, I have made this recipe using sauteed diced hash browns in place of potatoes. This frittata is really good!

Just finished dinner. Easy to make, easy to clean up. Tastes great! I made it with 3/4 sprinkled with blue cheese and 1/4 sprinkled with shredded pizza cheese for my oldest daughter who doesn't like blue. I also didn't have fresh thyme, and powdered was too strong. Next time I'll try it in a casserole dish and bake it.
1

tablespoon oil

2

tablespoons butter (can use more)

3

medium onions, thinly slices

8

large eggs
3⁄4 cup whipping cream
1 1⁄4 cups cooked potatoes (diced into about 1/2-inch cubes)
1⁄2 cup crumbled blue cheese (can use lass)

1

tablespoon fresh thyme
salt and pepper
Heat the oil with butter in a large frypan over medium-low heat.
Add in the onion slices; saute for about 10-15 minutes or until lightly browned and caramalized, then season with salt and pepper (leave in the skillet).
Sprinkle the cooked potato cubes over the onions and sprinkle with black pepper.
In a bowl whisk the eggs and whipping cream together with salt and pepper; pour over the onions and potatoes.
Sprinkle with blue cheese and thyme leaves.
Cook covered for about 6 minutes or until almost set.
Place under the broiler for about 1 minute.
Delicious!