Savory Kucia - Wheat Berry Salad
loof751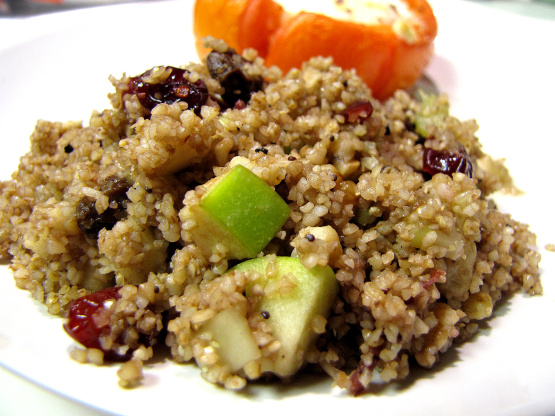 One of the most important dishes for Kucios, the Lithuanian Christmas Eve supper, is "kucia", a mixture of wheat berries, ground poppy seeds and honey. I've never actually had this (wheat berries being scarce in California markets of 40 and 50 years ago), and since I prefer savory things, I decided to make a salad in the spirit of the traditional kucia, incorporating things that would have been available in a typical Central/Eastern European farmstead. OK, balsamic vinegar and olive oil are a bit of a stretch, but everything else would have been available at my grandparents' farms. If you've never had wheat berries, you'll discover a tasty grain. I have found that this tastes best if permitted to stand overnight, to permit the flavors to meld. Cooking time does not include soaking or standing times.

This is a delightful dish! I couldn't find wheat berries so I had to use cracked wheat, prepared it the same way except skipped the overnight soak. I don't care for onions so used chopped celery. The dressing on this was perfect with the nutty wheat, fruit, and walnuts. I used plenty of black pepper and served at room temperature as you suggested. We loved this - thanks for sharing a great recipe!
Rinse and drain the wheat berries. Place them in a medium bowl, cover with water and soak overnight.
Drain the wheat berries, place in a medium saucepan, add 3 cups water and cook until the berries are soft and the water is pretty much absorbed, about 1 hour. If the berries are tender, you can just drain any excess water. (I have been doing this in the rice cooker - it takes two cycles in my machine, but I don't have to worry about the pot boiling dry).
Cover the chopped onion with hot water for two or three minutes, and drain. (This reduces a bit of the bite. Your onion may be sweet enough to skip this step).
Place the cooked wheat in a large bowl and toss with the onion, apple, berries, poppy seeds and walnuts.
Add some freshly grated black pepper.
Whisk together the olive oil, vinegar, honey and salt. Pour over the salad and toss to combine.
Let stand at least four hours or so, preferably overnight, to permit the flavors to meld.
Serve at room temperature.
Note: The vinegar keeps the apple from discoloring, but you may prefer to add the apple just before serving. The heat and moisture of the cooked wheatberries will soften the dried berries, no need to presoak. If using dried cherries, you may want to cut them in half. I tend to use less salt than many, so you may want to adjust that to your own taste.