Starlita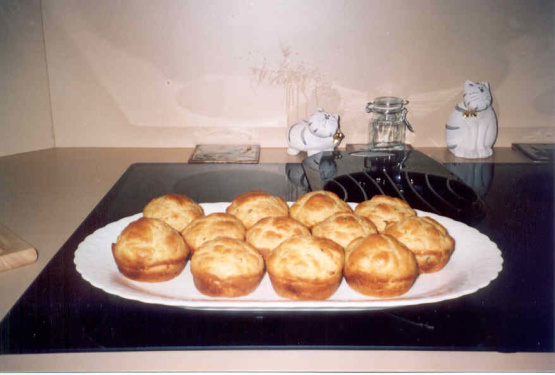 These muffins are really good and different. Everybody at work just loved them and wanted the recipe. I got this from another Wal-Mart recipe card (usually in the produce section).

I'm sorry, but these were really bland and unflavorful. As I was making it seemed like I a little salt should be added, but I went against my instincts & followed the recipe exactly & it was totally bland. On the plus side, the texture was nice and it was pretty quick to make, esp. since I was in need of something in a jif to dunk into a soup I'd already made for dinner. (Immersed in the soup they took on flavor, but on their own they really taste like nothing.) I don't *think* I'd ever make again, but if I did I'd definitely add salt, and probably something else as well for some flavor (herbs? a spice? some shredded cheese? garlic? I don't know..). Sorry :-(
Preheat oven to 350°F.
Spray 12 standard-size muffin cup pan with cooking spray.
Add dry ingredients to large bowl and stir to blend well.
Mix buttermilk, eggs, sour cream and oil in medium bowl to blend.
Add herbs and lemon peel.
Stir buttermilk mixture into flour mixture, do not over mix.
Drop batter into prepared muffin pan.
Brush tops lightly with melted butter.
Bake muffins 15 minutes, brush tops again with butter.
Continue baking until golden on top about 12 minutes longer.
Turn muffins out onto cake rack.
Serve warm with cream cheese.