Savory Herb Biscuits (Sage and Caraway) With Garlic Butter
Nimz1466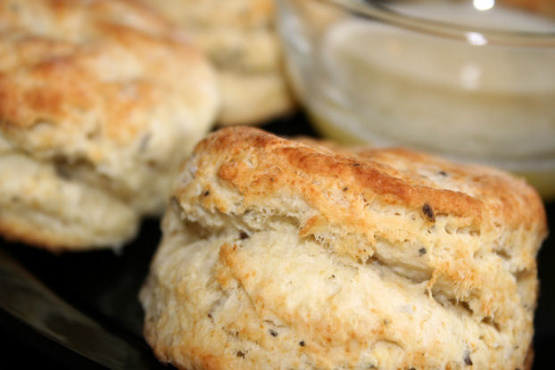 Great dinner biscuits warm from the oven. Go nicely with soup & salad or the main course. If using self-rising flour omit baking powder & salt.

Oh my gosh, yum!!!! A perfect combination of herbs, and the garlic butter is soooo good with them! I subbed half the flour for white whole wheat, and used soy milk instead of dairy, with great results. I also didn't melt the margarine for the garlic butter -- just mixed the garlic powder into soft margarine and left it spreadable. They are now my new standard for serving with creamy potato soup. Thanks for sharing!
Preheat oven to 450°F.
Lightly grease a cookie sheet with olive oil.
In a large mixing bowl, combine flour, caraway seed, sage, mustard, baking powder, and salt; mix well with a fork.
Cut in shortening using a pastry blender or a fork until dough resembles coarse meal.
Gently stir in most of the milk until well blended (if dough is not soft & easy to roll, add just enough milk to make it pliable; too much milk will make dough sticky, but the biscuits will be dry if you don't add enough).
Gather dough into a ball, and knead gently for about 30 seconds on a lightly floured surface.
Roll out dough into a circle about 1/2" thick.
Cut using a floured 1 1/2" biscuit cutter or cookie cutter.
Gather up scraps of dough and re-roll and cut out remaining biscuits.
Place on greased cookie sheet about 1/2 inch apart.
Bake for 10-12 minutes (until golden brown).
Mix garlic powder in butter.
Serve biscuits hot with garlic butter.