PaulaG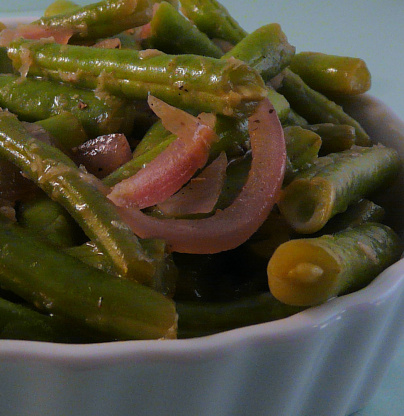 My boyfriend cooked this for a dinner a couple of week ago. It was so tasty and tangy, that I could not believe that it was green beans (1 of my least favorite vegetables) Maybe it is because I like that lemony-tangy flavor, but I think it is a great and EASY way to give something extra to vegetables. Oh, he told me he got the recipe from the Stop & Shop website. I hope you all like it as much as I do. Try to exchange the broth and the lemon juice with instant lemon flavor iced tea (prepared as if you were going to drink it) for an extra flavor kick.
In a nonstick skillet melt the butter and then add the chopped onion and the chopped garlic. Cook on medium heat until the onion gets tender and clear.
Add the green beans and don't forget to stir frequently. Let everything cook for 1 or 2 minutes.
Add the chicken broth and the lemon juice, let it boil and then reduce heat.
Let it simmer for 4 to 5 minutes or until you see the green beans are crisp.