Bergy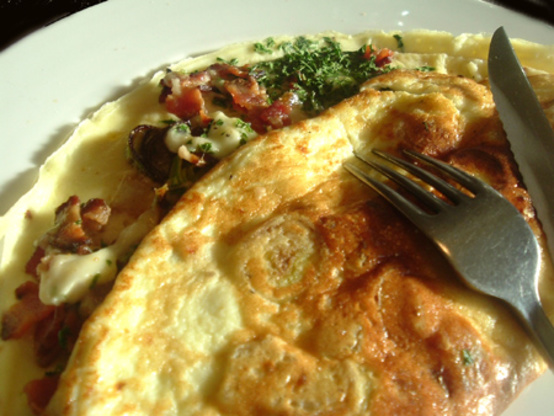 I found this recipe in a Best of International Cooking Book that I have been dying to try. So of course I say to myself, thats perfect for ZWT3 France! Perfect for a breakfast thats full of flavor!

Top Review by Bergy
Great tasting omelet. I made oven fries last night so took a few out when they were 3/4 cooked to use in this recipe. I will add a pinch of rosemary next time I make it. I used my last leek from the garden (it was a small one) Cut the recipe back to a 2 egg omelet. Thanks for a lovely Sundy Brunch
In a large skillet, fry bacon until crisp. Crumble cooked bacon;.
set aside. Add 1 tablespoon oil to bacon drippings.
Add potatoes.
and leek; saute until tender. Stir in crumbled bacon; set aside.
In a large bowl, beat together eggs, salt and white pepper. Stir in sauteed-potato mixture and cheese.
Heat remaining 2 tablespoons oil in skillet. Pour in egg mixture. Cook over low heat until underside is browned and top is soft and moist. Sprinkle chopped parsley over top.
Fold cooked omelet in half. Use a broad spatula to place omelet on a platter.
Garnish with parsley sprig.
If desired, cook 4 small omelets instead of 1 large omelet.