Savory Feta-Filled Shells
LorenLou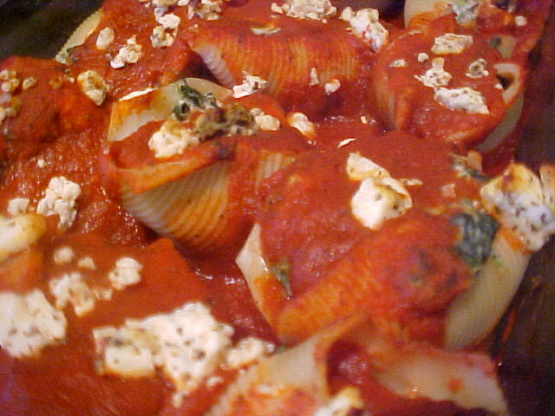 Recipe from Athenos Feta Cheese with Basil & Tomato. Haven't tried this yet, but plan on making it with alfredo sauce. Looks scrumptious!
Top Review by moxie
Another delicious winner, Minkie!!! Using the seasoned feta sure saves time by keeping the ingredients to a minimum. I used marinara sauce, because I thought the contrast of the tomato flavor would balance the cheese filling well. I also used one of the small boxes of the frozen spinach, since the recipe doesn't specify. I was able to fill 16 shells with the mixture.
Mix spinach, ricotta cheese, 3/4 of the feta cheese and garlic powder.
Fill shells with spinach mixture.
Place in a 2 quart baking dish.
Pour sauce over shells.
Top with remaining feta cheese.
Bake at 350 for 20 minutes.