Savory Crock- Pot Garden Stew
Rita1652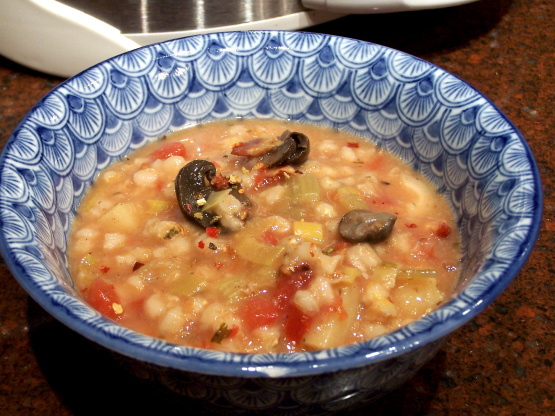 This is an easy and tasty stew. The addition of bacon, leeks, and assorted seasonings and garden vegetables nicely complement the potato base. It's quite satisfying as is, but feel free to make good use of your gardening labors and add any other fresh vegetables from your garden. A handful of fresh green beans worked quite well in this stew, but I think snap peas would probably be a nice addition, too. Served with a hearty roll (such as fresh baked multi-grain sesame rolls) or tasty cheese bread, this stew makes a satisfying meal.

Top Review by KateL
3 Stars, I was overwhelmed by the 2 tablespoons of herbes de Provence, I would cut that in half next time. I chose this recipe because of the Rotel, but only detected the heat, and not the tomato taste. The recipe came out dark grey-brown; the late addition of mushrooms made this much more attractive. Why not add beans to make this a complete meal? Reviewed for October 2008 Crazee Crockpot Contest.
Place paper towel on a micro-wave safe dish. Lay 5 strips of uncooked bacon on top of paper towel. Cover bacon; cook in microwave on High setting for 5 to 5½ minutes. Let cool 5 minutes. With kitchen shears or knife, cut cooked bacon strips into 1-inch pieces.
Place cooked bacon, potatoes, chopped leek, barley, celery, herbes de Provence, salt, garlic, apple cider, and undrained canned tomatoes in crock pot. Then add enough water to reach the consistency of vegetable soup (about 3 1/2 to 5 cups should be sufficient). Stir to thoroughly blend all ingredients.
Cook on Low setting for 6-8 hours total. Occasionally stir the stew to be sure everything cooks evenly. If a lot of the liquid is absorbed during the cooking process, just add additional water as needed (about ½ cup at a time) to maintain a soupy consistency.
One hour before serving, add the sliced mushrooms and continue to cook another hour (on Low setting), or until mushrooms are tender and cooked through.
Serve hot.