chia2160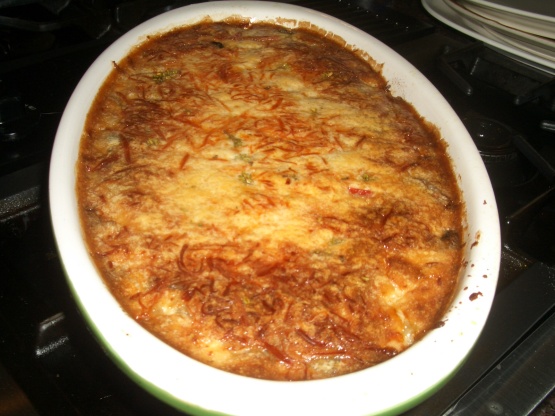 from fine cooking, this is a wonderful recipe to adapt to your personal tastes. this recipe is vegetarian, but you can add meats, change the type of cheese and use vegetables that you have on hand- be creative. I made this for the break fast last week end, and my guests just loved it.

Made this for 20 people for a Break Fast tonight. Big Hit!
heat oven to 425.
butter or oil a 2 quart au gratin or 7x11 pyrex dish.
for the batter:.
put cornstarch in a medium bowl.
whisk in 1/2 c milk until smooth.
whisk in eggs and egg yolks until smooth.
gradually add remaining ingredients.
(you can also mix this in a blender).
for filling:.
heat oil in a saute pan.
add onions and red pepper, saute 2-3 minutes.
add zucchini and mushrooms, saute until softened and liquid is gone.
arrange the filling in the prepared dish.
sprinkle with cheese and herbs.
pour batter over all.
bake until top is golden brown, and custard is set, 25-30 minutes.
let it sit for 30 minutes before serving.