Savory Chicken With Asian Noodles
rpgaymer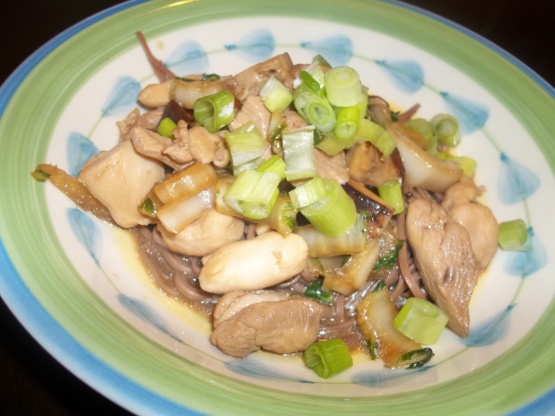 From the Chicago Tribune. A fast and easy combination of chicken, veggies and noodles. A couple of pork chops could be subbed for the chicken.
Top Review by PaulaG
This dish is amazing. A couple of adjustments were made based on what was available in my kitchen. Dried porcini mushrooms were used instead of the shitake mushrooms. The soaking liquid was used instead of the chicken broth. The mushrooms added a depth to the sauce that was amazing. The noodles were combined with the chicken mixture and allowed to soak up the sauce for a few minutes before serving. Thank you for posting and thank you for recommending in Recipe Request.
Cook noodles according to package directions until tender. Drain and rinse in cold water. Set aside.
Heat oil in a large skillet over medium heat. Brown the chicken on both sides, about 5 minutes.Remove to a plate.
Add the garlic, bok choy and mushroom caps (halve or quarter, if necessary) to the skillet and raise the heat to high. Cook vegetables, stirring often, until they are tender, about 5 minutes.
Add broth and stir, scrapping up the brown bits. Add the soy sauce, sesame oil and the chili oil. Add the chicken, reduce to low, and simmer until the chicken is cooked through, 3 to 5 minutes. Remove from heat.
Stir in the noodles and top with the green onions.