Savory Chicken Pot Pie Paula Deen
berry725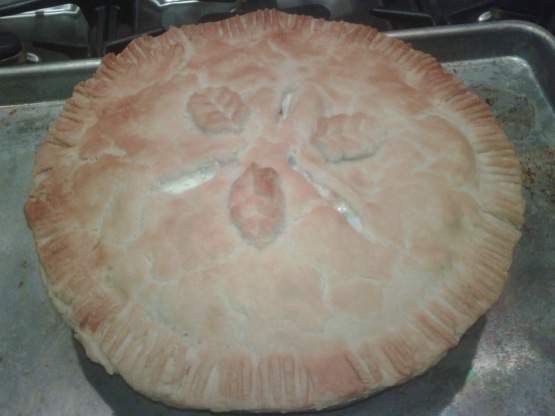 I watched Paula Deen and her guest, Rodney Henry, make this and it looked soooo good! Plus they had such a good time making it. LOL I know there are quite a few good chicken pot pie recipes out there, but when I have the time, I love to roast this chicken and make this home-made pie crust. Otherwise, using a store-bought chicken and pie crust works just fine. From Food Network. Hope you enjoy! UPDATE: I meant to correct the measurements of the crust, I have done so now. Sorry for this mishap.

This was super easy as I made a few changes. I used the pie crust recipe from Thomas Keller's Ad Hoc cookbook, which uses butter instead of shortening. I bought 2 rotisserie chickens and used only the breast meat. I am not sure that I would use the entire 2-1/2 cups of heavy cream next time, maybe just 2 cups. I had to pour some of it off after I cut the first piece. It does need to set-up for about 30 minutes before you cut into it...it's still very warm! Again, this was super easy and amazingly wonderful! Enjoy!
For the chicken:.
Preheat oven to 350 degrees F.
Stuff onions and carrots into the cavity of the chicken. Rub salt, black pepper and butter into skin of chicken. Place rosemary sprigs under the skin and place into a roasting pan. Place sage on top of chicken and roast for 1 1/2 hours.
Remove the chicken from the oven. Transfer to a cutting board and allow to cool.
For the filling:.
Place carrots and potatoes on sheet pan and season with salt and pepper. Place into the preheated oven and roast until caramelized.
When chicken has cooled, discard the onions, carrots, sage and rosemary.
Pull the chicken meat off the bones and cut into 1/2-inch pieces.
Place into a large bowl with chicken juice from roasting pan along with potatoes, carrots, peas, corn, heavy cream and flour.
Mix together well. *Cook's Note: Filling will be thick.
For the crust:.
Knead all ingredients together in a large bowl, slowly adding the water.
Divide into 2 pieces and roll out on a lightly floured work surface. One will be the bottom crust, the other the top.
Place 1 piece of dough into the bottom of a 9-inch pie dish. Add filling and top with the other piece of dough.
Crimp the edges together with a spoon or a fork.
Brush the top crust with melted butter and bake in the preheated oven for 50 minutes.