This is a tasty baked cheddar spread!! This recipe was given to me by my cousin Teri who makes this at every family gathering!!
Directions
Combine cream cheese, miracle whip, shredded cheese and scallion.
Add half the amount of bacon (crumbled).
Spoon into a glass pie dish.
Crumble the remaining bacon and one sleeve of ritz crackers.
Sprinkle on top of cheese mixture.
Bake at 400F for 20 minutes.
Serve warm with the remaining ritz crackers.
Most Helpful
This is now one of my favorite spreads. I like it so much better than "cold" spreads that are not always so spreadable. I will be making this often. Thanks!
OMG I ended up making this last night and it was so good. Will be making this more often for get gatherings and parties.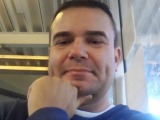 JUST my kind of cheese recipe Sarah! We BOTH loved this, and made it specially for a sandwich filling for a picnic, although we DID test it first with crackers! I added smoked bacon lardons, light mayonnaise, as we can't get miracle whip in France or the UK some grated Comte cheese, as I was out of Cheddar - but, it was just delectable and was perfect when spread on fresh baguette for our picnic. Made for Recipe Swap in the Aussie Forum. THANKS darlink, Karen xxx PS: I didn't bake this spread this time, but I will bake it next time!