Savory Brussels Sprouts and Mushrooms
Prep 20 mins
Cook 15 mins

I love this, it made me love Brussels sprouts! It's elegant enough to serve at a dinner party, easy enough for Tuesday night!
Directions
Trim stems of Brussels sprouts. Cut an X in the core end of each one with a sharp knife.
Place sprouts in a steamer basket; place in a saucepan over 1 inch water. Bring to a boil; cover and stearm for 9-11 minutes or until crisp-tender.
Transfer to a 13x9x2-inch baking dish coated with nonstick cooking spray. Top with mushrooms.
In a small bowl, combine the brown sugar, vinegar, butter, salt, tarragon, marjoram and pepper. Drizzle over mushrooms and sprouts.
Bake, uncovered, at 350 degrees for 15-20 minutes or until vegetables are tender.
Most Helpful
The sauce in this dish is fantastic! It totally sends the veggies over the top good. I love the mix of cider vinegar with the brown sugar and herbs. Great recipe, thanks for sharing Sweety. Made for Pick-A-Chef Fall 2011.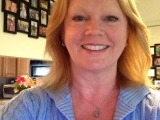 Really good!
I love mushrooms and I enjoy sprouts. So, I knew I hat to give this a try and I am glad I did because it was very tasty served alongside the tuna steaks I served for our main meal tonight. I used reduced fat margarine and splenda brown sugar mix and everything still worked out well. I think the sauce really is the dish and I think the sauce would actually be nice as a marinade for salmon or a similar meaty fish. Made for PAC Fall 208.