Savory Beef and Onion Stew (Hachée)
coenenr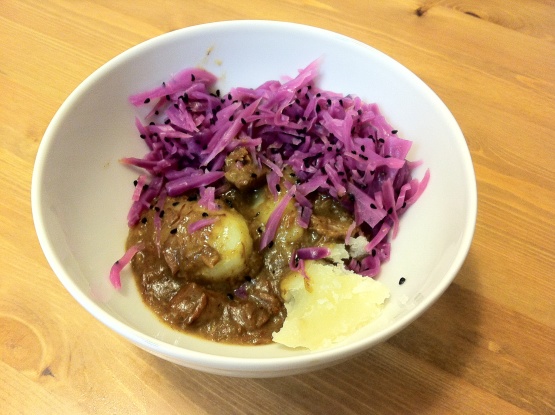 This is one of the favourite dishes in the region i live in. I got the recipe from a site with authentic dutch recipes: http://www.hollandsepot.dordt.nl/index.htm There is actually another ingredient in the original recipe, it's called ontbijtkoek and it's used to thicken the stew instead of using cornflour.

This makes a lot of tasty gravy that I served over mashed potatoes. I used 1 1/2 pounds of beef so DH would not ask, "where's the beef". Loved the flavor the bay leaves gives this meal. I might have used 1 too many dashes of worcestershire sauce but it was still good. Made for *ZWT4* 2008 game for the *Zingo Round* I'm on team *Tickling Tastebud Travellers*
Brown the onions and the flour in the butter in a saucepan.
Add stock gradually, stirring all the time. Add bay leaves and cloves and simmer for five minutes with the lid on the pan.
Add the vinegar and the diced meat.
Simmer for another hour.
Mix the cornflour with a little water. Add this to the stew to thicken the sauce. Simmer for five minutes, stirring continuously.
Make it to taste with a little pepper and Worcestershire sauce.
Serve with mashed or boiled potatoes and red cabbage with this dish.