lazyme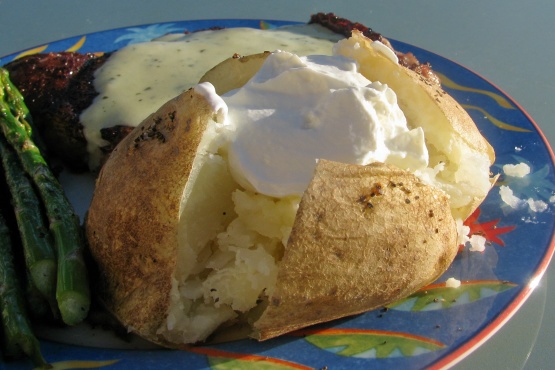 This is sort of a gourmet version of the baked potato but it's quite an easy process. You end up with a potato skin so delectable that you feel compelled to eat it (which is where lots of the vitamins are.) I like to use baking-sized Russets for this recipe but you can use whatever you have. If you're baking smaller potatoes, just cut back on the time a bit. It's important that all the potatoes be about the same size to insure uniform doneness. Also, I use extra virgin olive oil because it comes from the first pressing and it's pure, not extracted by the use of chemicals as in the case of cheaper olive oils.
Preheat the oven to 400-degrees F.
Scrub and dry the potatoes.
Use a fork to poke each potato a half dozen places about 1/2" deep -- this will prevent them from blowing up in the oven which can happen sometimes!
Rub each potato all over with olive oil and lay them out on a baking pan. Then sprinkle the kosher salt over them and rub it all over each potato. Not all of it will cling to the potato but that's okay.
Bake the potatoes on the baking pan on the lower-middle oven rack for one hour and then check one for tenderness by inserting a sharp knife into the center. It should insert very easily and smooth. If you hit a solid center, give them 10 more minutes and check them again.
After the potatoes come out of the oven, you can brush off as much of the salt as you wish (I leave it on and that way I don't have to salt my potato.).
Top the potatoes with any or all of the following condiments unless you prefer it vegetarian-style: crisp and crumbled bacon, butter, sour cream and chives, sharp cheddar cheese. (Vegetarians may want to sprinkle on a little Mrs. Dash garlic blend seasoning.).